Want to receive text message (SMS) and/or email updates from Rochester United Sharks Lacrosse?
No problem! Just provide your contact info below and we'll keep you up to date!
RUSL LACROSSE
511 Olde Towne #1351
Rochester Hills, MI 48308-1351



Summer 2016 RIPTIDE CHAMPIONS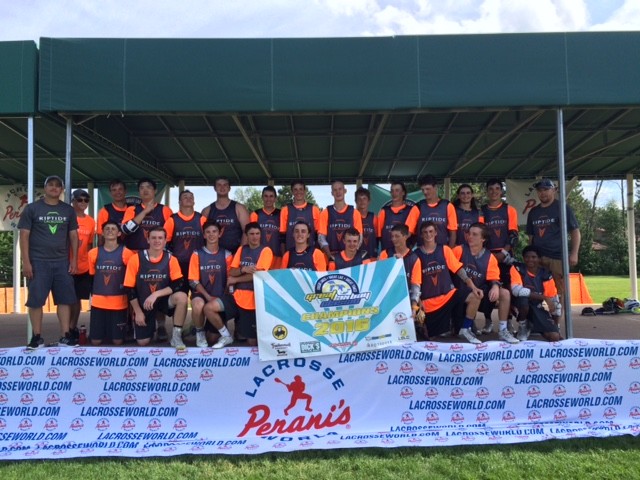 Today in the Spotlight
At onetime these college players, played in high school together than in middle school together as Sharks.
Lacrosse has brought these young men a lot to be thankful for, as they have graduated from college and made their parents proud.
Left to right Mike DiMarco, Tyler Kilpatrick, & Brad Nylen
---
The Romeo Bull Dogs are the 2016 High School Chumash Champions.
This player was once a Shark where he started his upward climb to be playing at Trine college. Nikolas Sucevic has made us all proud of his accomplishments
.
---
The Sharks Lacrosse Club was started in the Spring of 2004 by Stew Kowalski.

In his early years, Stew was a walk-on lacrosse player at Michigan State University where he gained a wealth of knowledge about the game of lacrosse. Later, Stew took on coaching lacrosse at Troy High School. To this day, Stew is the only coach in Michigan history to win back-to-back
lacrosse state championships at the high school level. His coaching peers also selected Coach Stew as 'Coach of the Year' in the State of Michigan.

Stew has three sons and in 2004, he realized that they needed a place to play locally. Stew approached the Suburban Lacrosse League and joined the league with the Avon Sharks. The name was based on the Township "Avon" where Stew lived. His son, John, developed the Sharks name and the original logo. Stew also served on the Suburban Lacrosse League board with a goal to focus on player development at the middle school level.

The enthusiasm of coach Stew and the players kept the Sharks going for the next several years. The organization realized that this program would receive no school support and that the management and the funding would come from the parents. In 2007, Coach Stew recruited Bob DiMarco, who has three sons of his own that all play lacrosse, to help lead the program forward. After a couple years, Stew decided to return to high school coaching. He took on a head coach position for a brand newly formed lacrosse team at Avondale High School where his youngest son was attending school.

The first few years after Stew left were very difficult, but very enjoyable years. Bob DiMarco took on two teams, a 5th/6th grade team and a 7th/8th grade team. As the coach and manager for each team, he had to quickly prepare the players, many of which had never played lacrosse, for the lacrosse season each spring.


Who We Are Today
---
The Sharks program is not a high-level travel team. It is a program that focuses on developing players, so that they enjoy their high school lacrosse programs and beyond. Many players, over the years, have gone on to play varsity lacrosse for Rochester Adams, Rochester High, Stoney Creek, Avondale High, and Notre Dame Prep. We have several kids over the years that have been awarded college scholarships for lacrosse. That is what it's all about, from the days when Coach Stew started the program to where the program is today. Sharks lacrosse develops players that go on to be leaders on the field and in our community. The impact is apparent: today, we have several players that have come back to coach to give back to new players and the program.

In 2012, the growth of the sport had the Sharks faced with too many players. Boys in 3rd and 4th grade wanted to play so they were allowed to play 'up' with the 5th/6th grade team. The Sharks organization recognized that these boys needed their own team to give them opponents of like size and ability. Also, the 7th/8th grade team had so many players that it challenged the coaches to get everyone playing time.

In 2013, a 3rd/4th team was added as well as a second 7th/8th team. This decision proved successful. In addition to two new teams, several young ladies joined the teams and played by 'boy's rules' because of the lack of girl's teams in the middle elementary school level.


---
Sharks start up November 2016